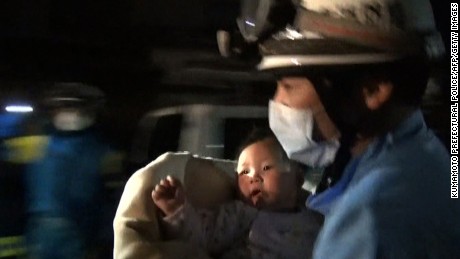 (CNN)Daybreak in Japan should reveal the extent of the damage from a magnitude-7.0 earthquake that struck early Saturday on Kyushu island, the same region hit by a 6.2 quake two days earlier.
One person was killed and numerous buildings were damaged, said Kumamoto Prefecture's disaster management office.
Rescuers scrambled to find survivors. TV Asahi showed crews crawling over a collapsed roof in an attempt to find an elderly couple. An 80-year-old man was pulled from the rubble, TV Asahi said.
The quake caused heavy damage in a wide area in Kyushu, Chief Cabinet Secretary Yoshihide Suga said at a press conference Saturday morning. He said 23 cases of people being buried under structures were reported so far.
TV Asahi, a CNN affiliate, reported 192,600 homes lost power in Kyushu.
According to Japan's Fire and Disaster Management Agency, 7,262 people have sought shelter at 375 centers since Friday in Kumamoto Prefecture.
Tsunami advisory issued
The U.S. Geological Survey
reported that the latest quake struck just west-southwest of Kumamoto-shi and about 8 miles south-southeast of Ueki, the epicenter of the late Thursday tremor that left nine dead.
"No question, this is a large and very important earthquake," said Doug Given, a geophysicist with the USGS. "And it will do a lot of damage."
The quake prompted the Japan Meteorological Agency to issue a
tsunami advisory
for coastal regions of Japan on the Ariake Sea and Yatsushiro Sea around 2 a.m. Saturday (1 p.m. ET Friday). Tsunami advisories are issued when the tsunami height is expected to be between 0.2 and 1 meter (0.65 to 3.3 feet). A warning would be for larger tsunamis.
The agency subsequently lifted all tsunami warnings and advisories.
As Given noted, "the four islands of Japan are on the edge of what's traditionally been known as the 'Ring of Fire'" — a stretch along parts of the Pacific Ocean prone to volcanoes and earthquakes.
Victor Sardina, a geophysicist in Honolulu, Hawaii, told CNN that the latest quake was about 30 times more powerful than Thursday's deadly tremor. He predicted "severe, serious implications in terms of damage and human losses."
The shallow depth of the quake — about 10 kilometers, or 6 miles — and the densely populated area where it struck could prove to be devastating, according to experts.
'Buildings were swaying and cracking'
"This looks like it's going to be a very damaging earthquake. I think we can expect that this is going to be far worst" than Thursday's tremor, said Tom Jordan, director of the Southern California Earthquake Center.
Television images showed mostly desolate streets, damaged buildings and shards of broken glass on the streets. Aftershocks as strong as magnitude-5.3 struck in the hours after the quake. In one part of Kumamoto-shi, dozens of people gathered outside in the night, sitting on the street away from buildings, some on blankets.
In short video posted to Instagram, people standing in the parking lot of a 7-Eleven in Kumamoto let out screams following an aftershock.
I keep missing the videos on the #earthquake Oh there it is.. #kumamoto #kumamotoearthquake 6.1 magnitude
Journalist Mike Firn in Tokyo told CNN he felt the temblor in a building some 900 kilometers, or more than 550 miles away from the epicenter.
"The building started shaking," he said. "It was swaying quite strongly for over a minute. … Buildings were swaying and cracking."
The latest tremor suggests that the one Thursday was a foreshock, though USGS expert cautioned "that's not to say that the Earth can't produce a bigger earthquake still to follow."
"But statistically, it's more likely that this latest event will be followed by aftershocks, which are all smaller."
Baby pulled from rubble after earlier quake
This happened about a full day after rescuers found an 8-month-old baby girl — alive — in the ruins of a home destroyed by the earlier quake on Japan's Kyushu island.
Rescuers had been told there was a baby inside the collapsed house, but aftershocks from the quake prevented the use of heavy equipment at the site. After six hours after the infant was trapped, she was pulled from the rubble early Friday.
That quake triggered a massive tsunami that swallowed entire communities in eastern Japan. It caused catastrophic meltdowns at the Fukushima Daiichi nuclear power plant.
The disaster killed about 22,000 people — almost 20,000 from the initial quake and tsunami, and the rest from health conditions related to the disaster.
Jie said Thursday's quake gave him a new appreciation for life.
"This experience has helped me to treasure my family members and relatives even more, and not take what I have and the people who support me for granted."
Read more: http://www.cnn.com/2016/04/15/asia/japan-earthquake/index.html
Comments
comments