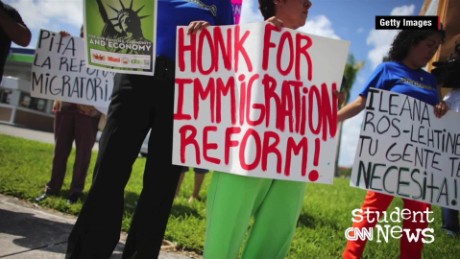 April 19, 2016
Today's international coverage begins with two stories from South America: Brazilian lawmakers are debating whether to impeach the nation's president, and officials in Ecuador are struggling to reach survivors of last weekend's earthquake. We're also examining two separate immigration issues in the U.S., and we're reporting on an increase in the number of American troops in Iraq. Finally, we're taking a look at some of the methods retailers use to get shoppers to buy.
On this page you will find today's show Transcript and a place for you to request to be on the CNN Student News Roll Call.
TRANSCRIPT
Please note that there may be a delay between the time when the video is available and when the transcript is published.
CNN Student News is created by a team of journalists who consider the
Common Core State Standards
, national standards in different subject areas, and state standards when producing the show.
ROLL CALL
For a chance to be mentioned on the next CNN Student News, comment on the bottom of this page with your school name, mascot, city and state. We will be selecting schools from the comments of the previous show. You must be a teacher or a student age 13 or older to request a mention on the CNN Student News Roll Call!
Thank you for using CNN Student News!
Read more: http://www.cnn.com/2016/04/18/studentnews/sn-content-tues/index.html
Comments
comments